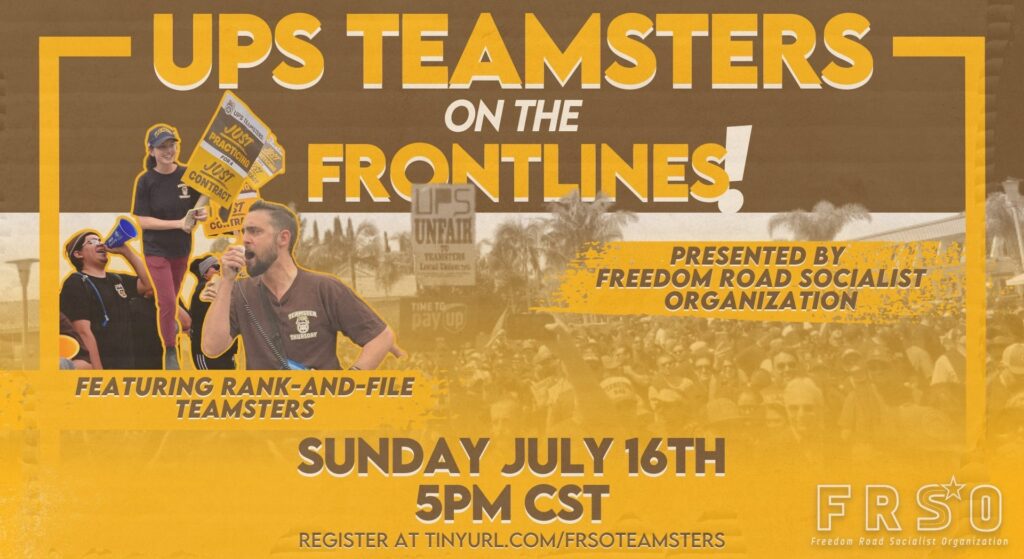 On Sunday, July 16 at 3 p.m. Pacific time (4 p.m. Mountain / 5 p.m. Central / 6 p.m. Eastern), Freedom Road Socialist Organization will be hosting an online event entitled "UPS Teamsters on the Frontlines" featuring rank-and-file Teamsters, some of whom are FRSO members, speaking on the latest in their current struggle for a contract with UPS.
"This Sunday we'll be hearing from the front lines of the class war," said Richard Blake, of Teamsters Local 512, "From real fighters who are leading the struggle on the shop floor."
IBT President Sean O'Brien has made it clear that if no tentative agreement is reached by July 31, the Teamsters will strike UPS. Teamster locals across the country are preparing for a potential strike with practice pickets.
For over ten years, FRSO members who are Teamsters at UPS have organized to lead struggles on the shop floor, fight for and win positions of leadership, and build a fighting labor movement across the country.
Now, FRSO members who are rank-and-file UPS Teamsters across the country are on the front lines leading practice pickets, keeping their coworkers up to date on the contract negotiations, and preparing to strike if there is no tentative agreement by July 31.
You can register for the event at https://www.tinyurl.com/frsoteamsters