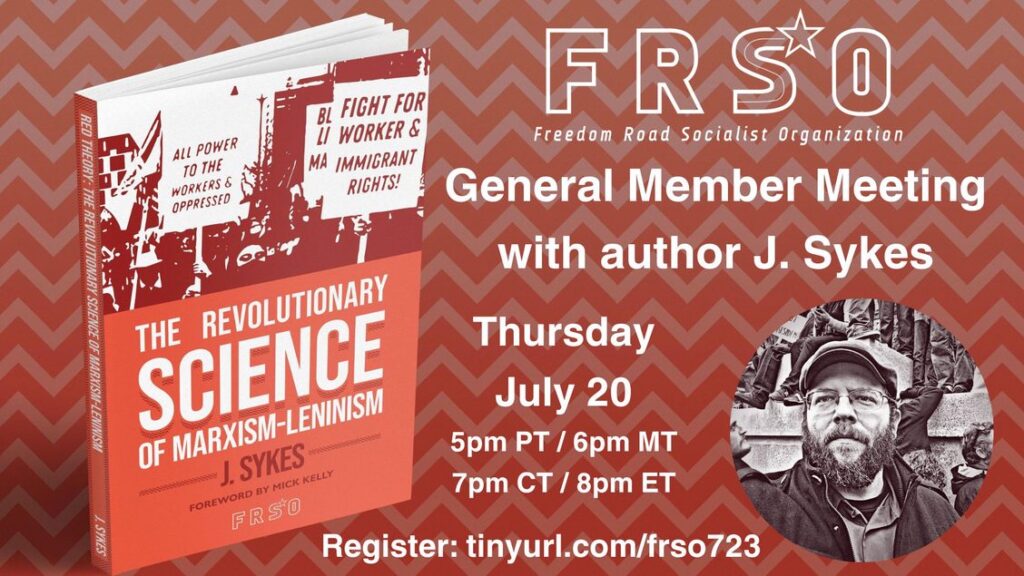 FRSO has recently released an exciting new book – "The Revolutionary Science of Marxism-Leninism." Join us for an online FRSO General Members meeting with the author, J. Sykes on why this primer on Marxism-Leninism was so necessary at this moment and for Q&A.
The event is set for Thursday July 20, 5 p.m. Pacific, 6 p.m. Mountain, 7 p.m. Central and 8 p.m. Eastern Time. Register to get the Zoom link: https://tinyurl.com/frso723
The struggle to defend The Tampa 5 — student activists facing 10+ years for protesting DeSantis:
The Tampa 5 are a group of activists that were attacked by police for protesting DeSantis' racist and anti-LGBTQ attacks on higher education. A nation-wide movement to defend them is building. Read this article and take action in your area and online on July 12th! One of the Tampa 5, Chrisley Carpio, will address our zoom meeting to update you on the struggle and how you can get involved.
Teamsters vs. UPS: Major labor showdown, potential strike — stand in solidarity!
Hear from rank-and-file Teamsters activists who are FRSO members on where the contract struggle is at and how you can stand in solidarity. Currently, Teamsters at UPS across the country are holding practice picket events. We encourage FRSO general members to join these actions in your local area. This struggle is evolving rapidly, with new tentative agreements being reached every few days, so check fightbacknews.org regularly for the latest updates.