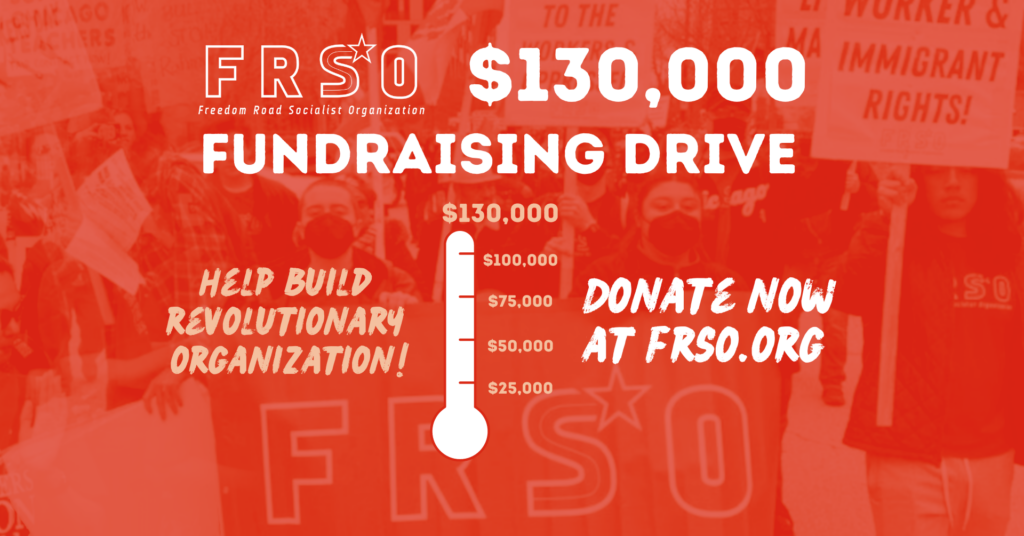 Times have changed and change is coming. Capitalism is a failed system. It needs to go, the sooner the better. A revolutionary solution is needed, and for that we need organization. Revolutionary organization – the kind of organization that Freedom Road Socialist Organization is all about building. To do this, we need you to step up and contribute. We have set of goal of raising $130,000 this year. Together we can make this happen.
Freedom Road Socialist Organization has grown rapidly over the past year. And the rate of growth is picking up. Every six to eight weeks, we are developing work in a new city. Our organizers have been traveling to cities across the county. We are becoming stronger with every passing day. We want to accelerate the process of building revolutionary organization and that cannot happen without additional resources. That's where you come in.
Last year's successful funding drive allowed us to open a national office and hire full time staff. As a result, our ability to do things in the real world has increased in a big way. Last year many supporters contributed $1000 or more. We need the same thing to happen this year. It is like Mao Zedong said, "We must crave greatness and success."
When the attack on Roe v. Wade came down from the reactionary Supreme Court, FRSO mobilized tens of thousands of people in opposition. We had a real and meaningful role in the uprising after the murder of George Floyd, and we are fighting hard for community control of police. And we are proud of our work in building the labor movement. We successfully resisted a multiyear FBI campaign that aimed to destroy our organization. We are activists and fighters, and we will do whatever it takes to bring this system down. Your contributions will allow us to achieve so much more.
So, do what needs to be done. Dig deep and make a serious contribution to the FRSO Spring Fundraising Drive. Our future is bright!
Contribute today by clicking on the red "donate" button in the bottom right corner of this page.
You can also donate by mailing a check made out to "Lucy Parsons Institute" to 2942 Oakland Ave, Minneapolis, MN 55407.