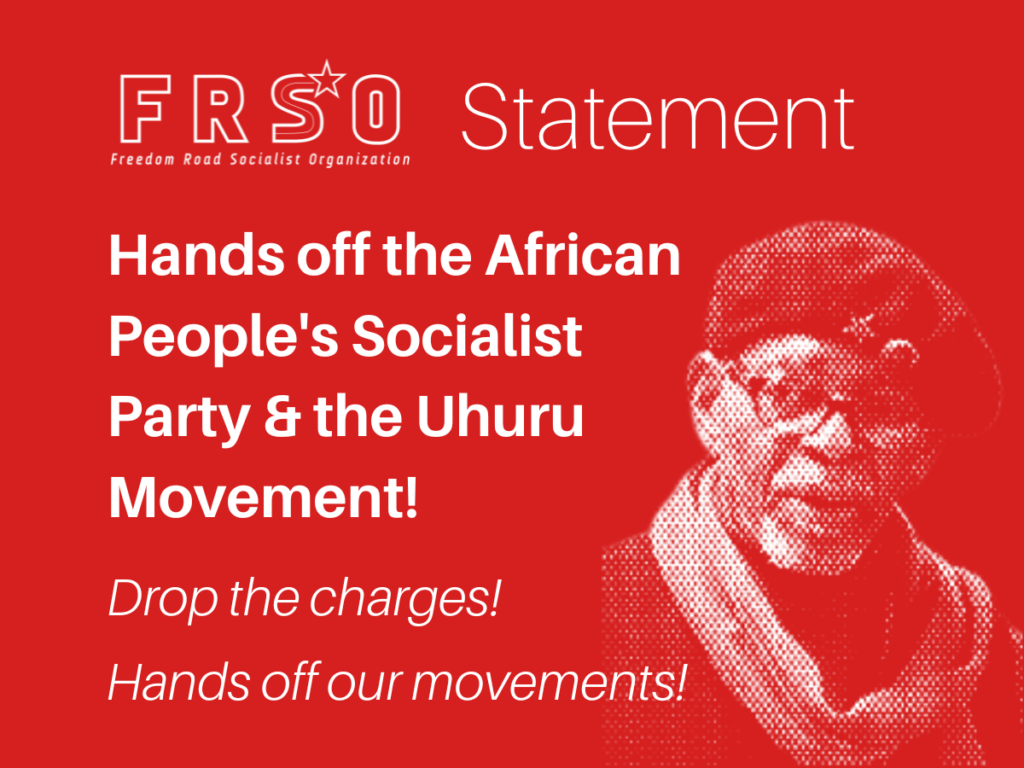 On Tuesday, April 18, a federal grand jury in Tampa, Florida indicted four U.S. citizens and three Russian nationals with charges of "acting as agents of the Russian government within the United States without prior notification." The U.S. citizens indicted are: Omali Yeshitela, chairman and founder of the African Peoples Socialist Party and the Uhuru Movement (APSP); Penny Joanne Hess, a leader of APSP; Jesse Nevel, a member of APSP; and Augustus C. Romain Jr., aka Gazi Kodzo, a former leader of APSP. If convicted, they face a maximum sentence of 10 years in prison. The Russians indicted are Aleksandr Ionov, founder and president of the Anti-Globalization Movement of Russia (AGMR); Aleksey Sukhodolov, and Yegor Popov. This is a repressive escalation by the U.S. state, following up on the FBI raids of July 29, 2022, which targeted Yeshitela's residence and an Uhuru/APSP office.
Freedom Road Socialist Organization unequivocally condemns these indictments. These activists are being targeted for their political positions, not due to any actual wrongdoing. We oppose all efforts by the U.S. government to target activists in any progressive movement in this country. We demand that these charges be dropped immediately. We call for an end to investigations, political harassment, and threats against activists and our movements.
The DOJ is alleging that those indicted were "working on behalf of the Russian government and in conjunction with the Russian Federal Security Service (FSB) to conduct a multi-year foreign malign influence campaign in the United States." The State Attorney's press release mentions an alleged video conference in which APSP members and Ionov discussed support for independence for the People's Republic of Donetsk and that fascist ideology is prevalent among parts of the Ukrainian military. Apparently, the U.S. Attorney wants to make it a crime to disagree with the U.S. State Department on geopolitical matters.
At a time when the US is engaged in an imperialist proxy war with Russia in the Ukraine, this year's indictments, following up on last year's FBI raids, have all the makings of a witch hunt. All progressive people should oppose any attempt by the FBI and police to attack people's movements and organizations. We must always be vigilant about defending our democratic rights to organize and speak out against injustice – including communicating with activists in other countries and building international solidarity. It should also be said this repression comes in the context of an upsurge of struggle in the Black liberation movement.
Freedom Road Socialist Organization is committed to pushing back against this repression and we stand in solidarity with those under attack.
We know from experience how importance resistance to repression is. On September 24, 2010 the FBI raided seven homes of anti-war activists and the office of the Twin Cities Anti-War committee. All told, twenty-three activists were subpoenaed to a Chicago-based grand jury that claimed to be investigating "material support for terrorism." As time went on, the FBI continued their attack on anti-war and international solidarity activists by targeting important veterans of the movement who worked with the Anti-war 23, including Chicano activist Carlos Montes in Los Angeles and Palestinian organizer Rasmea Odeh in Chicago. A national defense campaign defeated most of these attacks.
Drop the charges!
Hands off our movements!